The Alchemy of Love – Introduction to the 4th Chakra Alchemy
From Doing to Being
Modern life provides many of us with all kinds of comforting developments. For example traveling has become fairly easy and comfortable, most physical work is done by machines, we are able to access more information than ever before without even leaving the house. At the same time our lives have become more hectic and emotionally more demanding than ever before. Family, relationships and work are each full time jobs. Heart diseases, high blood pressure, and anxieties are all developments of an overwhelming modern life-style. Our physical and spiritual hearts are literally burning out under these conditions.
This workshop wants to offer a counterpoint to the stress factors mentioned above. He wants to help stop, slow down so that we have an opportunity to perceive ourselves again. This workshop has no goal and does not pursue an agenda. Rather, we want to allow ourselves to be instead of doing. 
The path to being succeeds with the help of the qualities of our heart. We will experience heart meditations, do playful exercises and relaxation exercises, we will tell about our lives and listen to each other and we will dance. 
Allow your heart to surprise you with its many gifts. A more real and natural intelligence of the spiritual heart is dormant in each one of us.
For more information contact us
via email: inner-alchemy_il@sugandho.org

via phone: +972 52-876 2738
Personal e-mail to Sugandho: inner-alchemy@sugandho.org

fb: School of Inner Alchemy & Meditation
---
Practical information
When:
24 – 25 March 2023
Pls. arrive latest by 9.15 am for registration and check-in.The workshop begins Friday, March 24 at 10 am and ends Saturday 25 March 2023 at 5 pm.
Where: 
Here and Now Center Gedera, Pines St. 44, 70700 Gedera / ISRAEL
We are a diverse group of people. People who work in various jobs, raise children, take part in a routine that is familiar to everyone. At some point in our lives we decided to go the way of developing self-awareness and self-care. In this way we try to bring awareness, direct our energy in and take full responsibility for our lives, while managing a similar routine of life.
For us, "walking the road" is an expression of vigilance, an expression of giving for the common good, an expression of an attempt to multiply well, an expression of help to others and the acceptance of the other.
We understand that this way is not over, we understand that walking the road is sometimes not easy and we know there is no purpose to reach. In our experience there is also the understanding that with learning, new degrees of freedom can be experienced and behaviour patterns that cause us suffering can be changed.
For learning about ourselves, we use diverse tools, workshops, meditations, personal processes and more. We help other people who have chosen to go this route. People with us "walk the road".
Founded in 2011.
Workshop schedule:
There are 2 voluntary meditations at the beginning and end of each workshop day:
07.00 am Morning Meditation & 17.30 pm Evening Meditation
From 10 am in the morning until 5 pm in the afternoon there will be 3-4 group sessions with different guided exercises related to the heart chakra, dance and sharing.
On Friday evening there will be a voluntary evening session from 8 – 9.30 pm. The evening will be related to our heart chakra. We will do some playful and relaxing exercises.
Prices
Workshop price: 800 ILS 
To reserve a place in the workshop a pre-payment of 300 ILS is necessary. The rest of the money can be paid when checking in on the morning of the workshop.
Here & Now Center offers accommodation to stay over night and delicious vegetarian food. Both is optional. You can bring your own food (vegetarian food only!) if you prefer or you can book single meals.
Food and Accommodation Booking pls. click here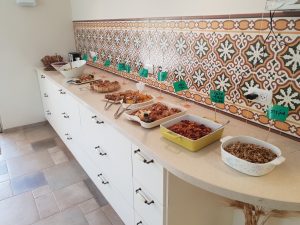 Registration:
1. Please, fill the workshop registration form here.
2. Send a deposit of 300 ILS to the following bank account:
Charlotte Luzius, Bank Ben Leumi / Bank No: 31 / Branch No: 017 / Account No: 980285
or send a message to School of Inner Alchemy if you want a PayBox link: 052-876 2738.
4. Pls. include your name and surname in transfer details. We will confirm your registration by e-mail.
 5. By registering to the workshop you agree with our cancellation conditions
We are looking forward to seeing you in the workshop.