The Alchemy of Love – 4th Chakra Alchemy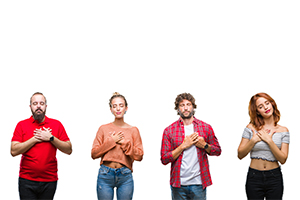 Date / Time
Nov 22, 2018 - Nov 25, 201818:00 - 17:00
Place
Centrum Skalka 22 / CZ
Category
Experiencing the Spiritual Heart
In spite of the many life comforting technical developments of modern age, our lives have become more hectic and emotionally more demanding than ever before. Family, relationships and work are each full time jobs. Heart diseases, high blood pressure, and anxieties are all developments of an overwhelming modern life-style. Our physical and spiritual hearts are literally burning out under these conditions.
In this workshop, we want to give a vacation to our hearts. We want to give ourselves an opportunity to release layers of physical and emotional stress. We want to learn how to support our heart in daily life by using the chakra map, which can teach us  about the healing potential we all naturally have within.
To keep our hearts light, we will learn to create healthy boundaries for ourselves in daily life and strengthen our hearts in various ways. We can find new ways of being loving to ourselves as much as we can be to others.
And when we create the right atmosphere for our heart to vibrate and beat in its natural rhythm, we open to experiencing the qualities of the heart: love, warmth, devotion, compassion, playfulness, and silence.
Allow your heart to surprise you with its many gifts. A more real and natural intelligence of the spiritual heart is dormant in each one of us.
"But the present education makes the mind old. It does not awaken the mind but fills it, and so it becomes old. By being filled with all sorts of thoughts, the mind becomes old, burdened and tired. Feeding thoughts means feeding the memory. It does not spark thinking or intelligence. Memory is not intelligence. Memory is mechanical. Intelligence is consciousness." (OSHO: Revolution in Education, #2)
For more information
contact Gaia at inner-alchemy@sugandho.cz 
and by phone: 00420-608 026 443
---
Practical informations
When
Beginning 22 of November /Thursday/ at 6 pm. Arrive in time at 5 pm in advance to be able to accommodate before the program.
End of seminar 25 of November /Sunday/ around 5 pm.
Workshop schedulle
The seminar is intense and transformative. Day usually starts at 7 am, after that iso breakfast and morning block. After lunch we continue the afternoon program, which includes a short snack break. After dinner there is an evening integration program, which usually ends between 10 pm and 11 pm.
Prices
CZK 4,200 at check-in and prepayment until 22.10.2018, then CZK 4,550.
It does not include food and accommodation.
Accommodation and food
CZK 2 100/2 000/1 900 for accommodation in new rooms / original rooms / meditation hall – please, write type of accommodation to the note in registration form.
Diet is vegetarian – breakfast, lunch, afternoon snack, dinner, tea. We will start with a Thursday dinner and end with a Sunday lunch.
Registration
Please, fill the form on czech website (and scroll down to the bottom to see the registration form).
Please, send a deposit of CZK 2,000 on bank account 2100848008/2010, enter your name and surname in the message for the recipient. We will confirm your acceptance of the backup by e-mail. Your registration is binding only after we receive your deposit.
By registering to this workshop you agree with this cancellation policy.
We are looking forward to seeing you.
For more information contact Gaia at inner-alchemy@sugandho.cz

Sugandho e-mail: inner-alchemy@sugandho.com
fb: Ma Prem Sugandho – aktivity v České republice