From Fear to Love – Opening to Aliveness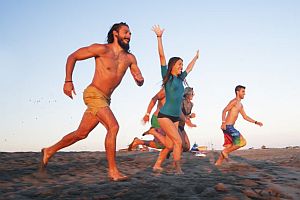 Being born into this world is a deep transition process and this new beginning isn't all easy. Our physical body stores memories in the nervous system, the tissues, and muscles, etc. from the moment our body is developing inside our mother's womb. Imprints before developing our cognitive abilities are especially powerful.
Body imprints can make us feel connected and at ease with our bodies. For example, the touch of our parent's hands when holding us as babies, their loving voices, etc. Lack of touch, early separation or other difficult memories might cause rather a disconnection from our physical body. Lack of touch is actually a painful feeling for a baby, which the body compensates by dissociation or numbness. 
Both states have different influences on our life. When we feel connected to our physical body a sense of belonging can develop, we naturally develop strength and feel grounded. We learn to trust: whatever life brings us in terms of survival, we will be able to handle it. 
Disconnection from the physical body evokes rather opposite feelings. It is more likely that unexplainable insecurities in the physical body and in the material world manifest as irrational fears. Feelings of weakness and lack of energy might feel almost normal and unbeatable. Lack of trust turns the world into an unsafe and unwelcoming place.
Fear is something so invisible yet so powerful in its' ability to prevent relaxation and joy of life. What to do when fear arises? Escape, hide from danger, and wait for the fear to somehow disappear by itself? Or pushing beyond all limitations and making ourselves tough and seemingly strong? 
In a loving and caring atmosphere, this group gives an opportunity to come closer to our fears and learn through them, rather than getting rid of them. Every fear has a cause, discovering the causes of our fears is the aim of the workshop.
---
For further information and booking please contact:
Lalitya – Tel. +420-739 374 258‬ – E-mai: inner-alchemy@sugandho.cz
You can also register to this workshop on our Czech website: www.sugandho.cz